Manor College 75 | Manor College's First All-American Reflects on His Time on Campus
Mark Colville '14 currently is the Director of Sales at the Cambria Hotel in Philadelphia. He remains one of only two All-Americans in Manor College history.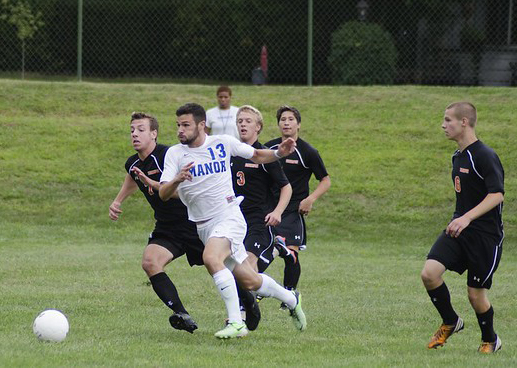 The pandemic was tough for everyone. Looking back two years later, Mark Colville '14 realizes that what was a tragedy for some ended up being an opportunity for him. 
Colville began working in the hospitality industry five years ago. He loved making sure guests were happy and tasks got done. It was a "life changing" experience. 
When the pandemic began in March 2020, Colville was laid off. He spent six months looking for work in an industry among the hardest hit by the situation. He found a home at the Cambria Hotel in Center City, Philadelphia. Over the next two years, he worked his way up between a pair of hotels until May, when he started as the Director of Sales for the Cambria Hotel. 
"You just had to learn on the job," Colville said. "I took it with everything I had in me and learned everything I could." 
What made the biggest difference, he said, is the support he received from his director. 
"I worked with him for five years and he really invested the time in me," Colville said. "It really worked out." 
*** 
Having that kind of support is nothing new for Colville. He attended Manor College from 2012 to 2014 and remembers having a similar support system there. 
"It's a really tight-knit community and the teachers were there for me," Colville said. "They really instilled in me that what effort you put in leads to the result you put out. Everyone was on your side and wanted to see you succeed."
Colville started his college career at a community college. He worked full time and went to school part time. After two years, he made the decision to go back full time. 
"I knew I had to either commit to going to school full time or just get into the work life," Colville said. "I don't think I was ready to jump into a four-year school, so going to Manor was a great fit."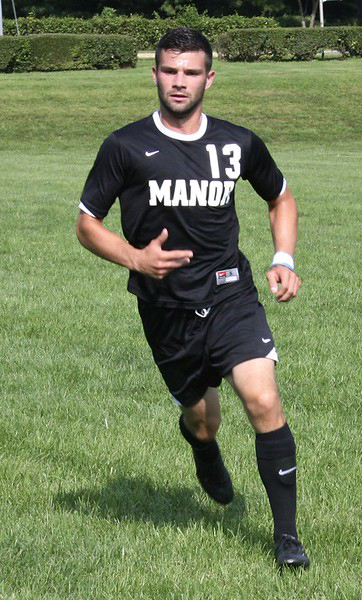 Colville said Manor was a great fit for his academics, but what he's best known for is his career on the soccer field. He became Manor College's first All-American student-athlete for soccer. He remained the only Manor College athlete named to an All-American team in any sport until men's basketball player Rahmaad Dejarnette was named a 2022 USCAA All-American. 
In 2013, he led NJCAA Division III with 22 assists and 10 game-winning goals. He finished second nationally in points (68) and shots (86). He holds Manor College career records in goals (47), assists (37) and points (131). 
"There were a lot of standout stars on that team," Colville said. 
He credits Manor College Men's Head Soccer Coach and Athletic Director John Dempster with fostering a strong team. 
"John was one of the reasons I even came to Manor," Colville said. "He's a father figure to a lot of kids and he takes pride in it. He's not just a coach. He makes sure your schoolwork is done and that everything is good off the field."
Manor College made an impression because everyone – from staffers and faculty to fellow students – held you accountable. 
"Everyone was on your side and wanted to see you succeed," Colville said. 
If he could give advice to current students, Colville said to take advantage of your time at Manor College and push through what life throws at you. 
"It might seem tough then – and there's going to be tough times – but you'll get through it," Colville said. "You're there to better your life. You have to get it done and put in everything you can. Keep your head up and know there's people willing to help you."
More 75 Stories
Gina Burke '82 Embodies "Entrepreneurial Spirit"
Manor Matches with the Penkalskyj's
Movers & Shakers with Prof. Mike Landis
Learn more:
Schedule a visit to Manor College