Gettysburg Comes to Manor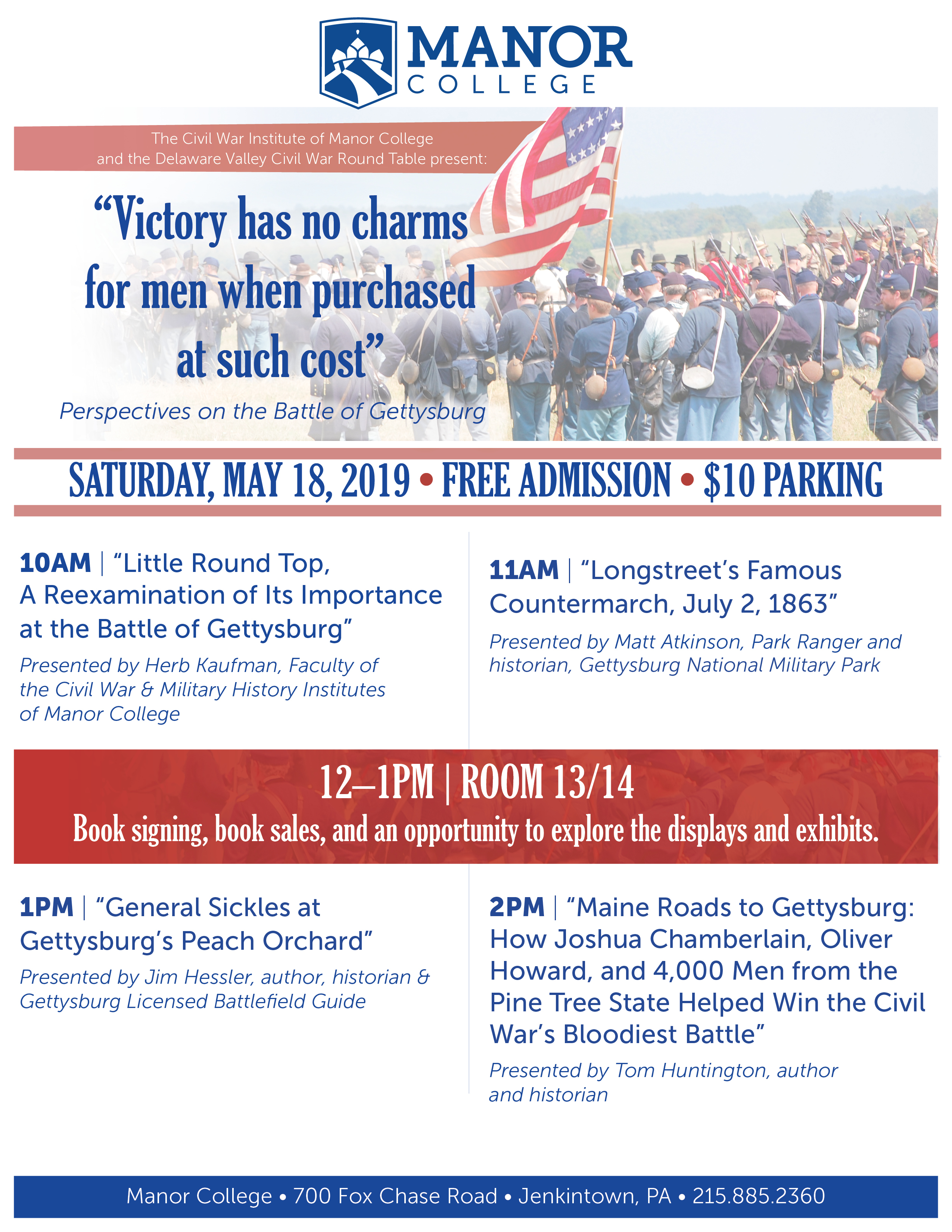 The Civil War Institute of Manor College and the Delaware Valley Civil War Round table present:
"Victory has no charms for men when purchased at such cost."
Perspectives on the Battle of Gettysburg.
Date: Saturday, May 18, 2019
Location: Manor College
FREE ADMISSION: per car parking donation requested
10:00 a.m.
"Little Round Top, A Reexamination of Its Importance at the Battle of Gettysburg"
Presented by Herb Kaufman, Faculty of the Civil War & History Institutes of Manor College
For years historians have made the assumption that had the Confederate troops managed to seize Little Round Top, the entire battle would have changed dramatically. Herb will take a contrarian view and reexamine these assumptions based on the comparison of Little Round Top on the Federal left, versus the Battle for Culp's Hill on the Federal right flank.
11:00 a.m.
"Longstreet's Famous Countermarch, July 2, 1863"
Presented by Matt Atkinson, Park Ranger and historian, Gettysburg National Military Park
Join Matt as we explore one of the most controversial exploits of the Battle of Gettysburg; – Longstreet's movement to get into attack positon. This presentation dispels the myths and takes a honest look at what actually happened on that fateful morning.
12:00 p.m.
Cafeteria:  Lunch, book signings, discount book sales, and an opportunity to explore the displays and exhibits.
1:00 p.m.
"General Sickles at Gettysburg's Peach Orchard"
Presented by Jim Hessler, author, historian & Gettysburg Licensed Battlefield Guide
Jim will discuss the colorful life of Major General Daniel E. Sickles based on his classic and award winning biography.  He will examine Sickles infamous forward movement, his command decisions, and the impact of his decision on both the Union defense and Confederate attack.
2:00 p.m.
"Maine Roads to Gettysburg: How Joshua Chamberlain, Oliver Howard, and 4,000 Men from the Pine Tree State Helped Win the Civil War's Bloodiest Battle"
Presented by Tom Huntington, author and historian
Based on his new book, Tom will tell the heroic history of the soldiers from Maine during the Battle of Gettysburg: the famous 20th Maine; the furious stand of the 17th Maine; the exploits of Col. Freeman McGilvery as he cobbled together a defensive line of artillery; and the battle of the 19th Maine in Pickett's Charge.