Getting to Know Robert Tucker, Player of the Year
It's not every day that a Manor College athlete gets named "Player of the Year" – but this past month, we were proud of Men's basketball team member, Robert Tucker, sophomore forward/center, who was recently named the 2019-2020 Eastern Pennsylvania Athletic Conference (EPAC) Men's Basketball Division II Player of the Year. 
Tucker is the first Blue Jay Men's Basketball player in Manor's history to receive this title. Tucker has also recently been named the NJCAA Men's Basketball Division II Player of the Week. 
Men's Basketball Coach, Dave Ellerbee, stated, "It is truly an honor to watch the maturation and growth that I have seen from Rob in his two semesters at Manor.  His hard work and dedication on the court and in the classroom have opened up a tremendous amount of opportunities and adulation.  I am so proud of him and his teammates. I know Rob will remain humble and continue to work hard towards accomplishing his goals."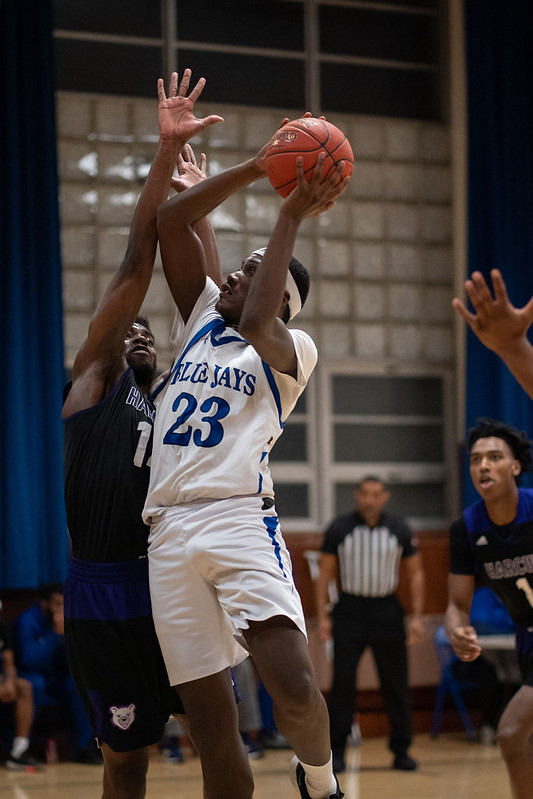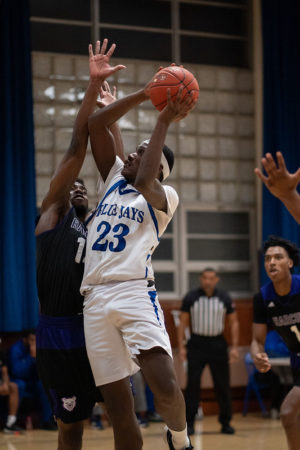 We sat down with Tucker and got to know a little more about him. 
What are you studying at Manor? 
Sports Management. 
What is your favorite class at Manor? 
Right now, my favorite class is Legal Environment with Professor Drobile. 
Why did you choose Manor College? 
I played against Manor in one of my summer leagues. It seemed like a great place and after I took a tour here, I knew I wanted to go here. 
What has been the best moment of your basketball career so far? 
Our first game against Morris County Community College has been my best moment so far. They are one of our biggest rivals and we beat them and played a great game. 
What is your favorite professional basketball team? 
The 76's are my favorite team, obviously! 
Who is your favorite professional athlete? 
Lebron James is my favorite professional athlete. I really admire his character and how he presents himself to the media. 
What is your favorite thing to do outside of school and basketball? 
I enjoy reading, watching tv and hanging out in my dorm. I'm currently into the shows All American and Riverdale. 
How do you feel about winning Player of the Year? 
I feel super excited about winning. Our whole team has worked so hard and this has given us a jolt of confidence. We all feel like MVPs. 
Do you have a special game day ritual? 
The only thing I do each time we have a game is to eat pineapple from Manny's Market. I don't know why, but I always have to have it! 
If you could share a message with younger students what would it be? 
I'd tell them to work hard and don't be lazy. 
Stay tuned for more exciting updates from the Men's basketball team! Want more Blue Jays news?  Follow us on Twitter.