Despite unforeseen obstacles, Manor College students reach 'finish line' with 2021 Commencement ceremony
The Manor College 2021 Commencement featured a Drive In format, allowing students to watch and participate in the ceremony while adhering to COVID protocols.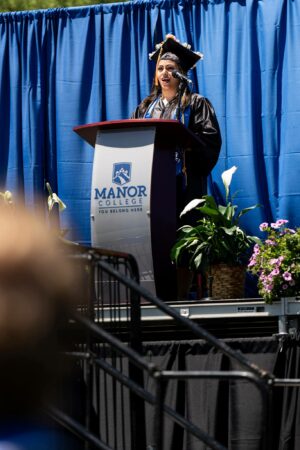 Madelyn Rivera thought she found balance in her life. The mother of three managed a job as a healthcare worker while attending a full slate of classes at Manor College. 
Then the COVID-19 pandemic took over her life. 
"This only added more challenges because I had to move all my classes online along with my two other children," said Rivera, a student speaker at the 2021 Manor College Commencement ceremony. "Not only was I a full-time student, healthcare worker and mom, but now I'm a full-time teacher to a 7th and 3rd grader."
Due to COVID-19 regulations, Manor College held the 2021 Commencement ceremony as a drive-in event, with students and their families watching the festivities from their vehicles. In total, 124 Manor College students received their diplomas on May 13. 
Like her classmates, Rivera persevered through the pandemic's challenges. She completed her Associate's degree at Manor as a member of the college's honor society, graduating with a 3.9 GPA.
"To my classmates who turned into forever friends, thank you for sticking with me," Rivera said. "I don't know how I would have made it through exams, projects, midterms and finals without you."
The 2021 Commencement speaker was Noe Ortega, Pennsylvania's Acting Secretary of Education. While he didn't have a pandemic to push through, Ortega recalled a large senior project that forced him to grind out his final semester of his own college days.

"I tell this story to make sure that everyone knows that the finish line is a hard one to get to and you deserve to be applauded for the work that you did," Ortega said. "Earning these credentials is hard work for everyone, not just yourself, including someone who has the honor of being the Secretary of Education. I struggled to finish my work as well."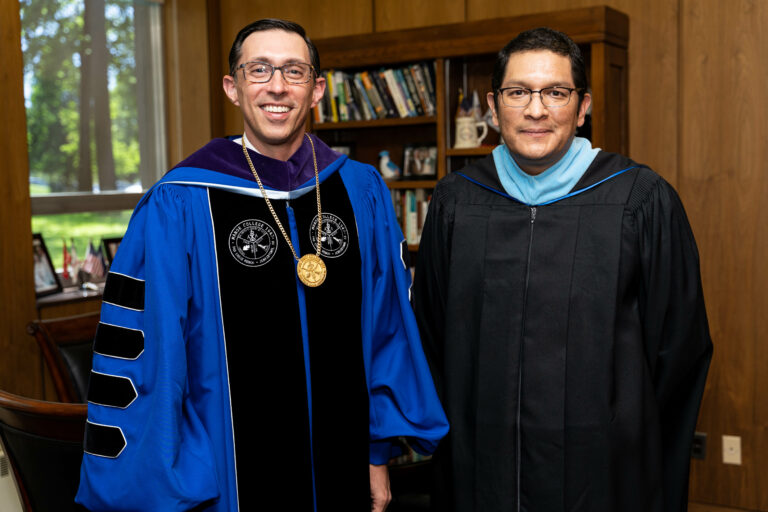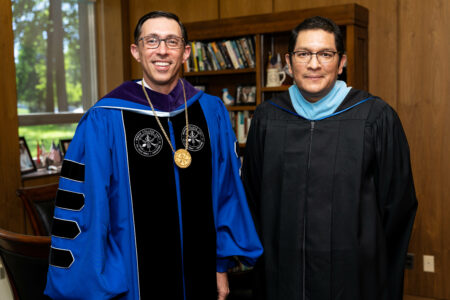 In the years since graduating, Ortega noted that there were plenty of moments where life was a grind and he fought the convenient option of quitting. In those moments, he said, is when one's true character sticks out. 
"What will define you is how you respond to these moments in your life and you have to make them count," Ortega said. "You can persist and you can succeed."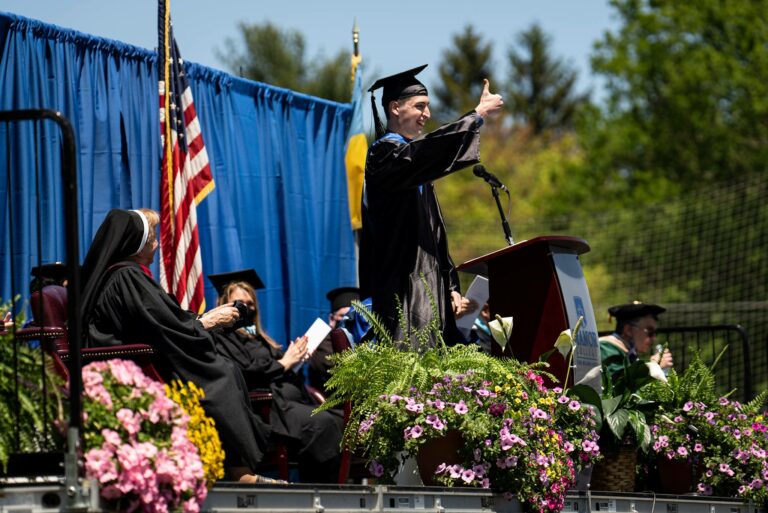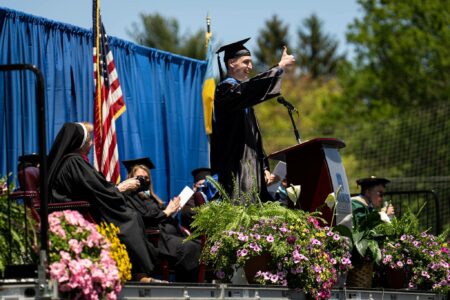 William Rodebaugh, a Philadelphia native, delivered the class speech for Manor College's Bachelor degree graduates. Rodebaugh came to Manor College as a home-schooled student diagnosed with Autism, but soon found a home at the institution.
Rodebaugh started his time at Manor College as the quiet kid listening to Pandora in his earbuds, but after seeing the College's tagline, "You Belong Here," the institution became his second home. He began running cross country and track at Manor College, and served as a member of the college's Student Senate and Campus Activities Board. 
He completes his Manor journey as a recipient of the Mother Josaphat Medal. The medal is awarded to one student per year who exhibits a responsible lifestyle, evidenced through reverence, respect and service to the community at Manor College and beyond. While GPA is not the primary contributor to the award, Rodebaugh graduated with a 4.0 GPA from the college. 
"Manor College is not just a College, it is so much more than that," he said. "It is a home and everyone here — students, staff and professors — are family to me. I get so proud every time I walk into the doors of Manor knowing that I found a place I belong and that I have so many people that care for me."
Congratulations to all 124 graduating students from the Manor College Class of 2021!