Class of 2021 Series: Will Rodebaugh
To some, Will Rodebaugh is considered 'Mr. Manor,' but the extrovert from Philadelphia wasn't always that way. Finding extracurricular activities at Manor helped him make the most of his college experience.  
Update (April 2022): Even though Will Rodebaugh graduated from Manor College, he hasn't left the college. Rodebaugh became the college's assistant track coach last Fall.
"It is honestly a rewarding job and I am honored to be back post-graduation helping students learn a sport I love," Rodebaugh said.
Aside from coaching, Rodebaugh has several other part-time jobs that keep him busy.
"I was concerned about having too much time on my hands," Rodebaugh said. "I didn't know what was next, but trusting the Lord lead me to paths I wasn't expecting. I'm so happy it all has worked out."
***
Rodebaugh was diagnosed with autism at 12 years old. Throughout that time, he struggled with loud noises – in particular loud music, screaming and fireworks. Over the years, he's learned how to deal with the obstacles by carrying ear plugs or covering his ears when those loud noises did occur.
This year, he's proud to say that he's faced those challenges head on. While attending a concert in March, he wasn't prepared for unexpectedly loud music and bright lights. In years past, Rodebaugh said that would've made the concert a miserable experience. This time, he didn't flinch.
"I had no idea it was going to be this loud, but it didn't disturb me one bit," Rodebaugh said. "I had a great time and didn't pay attention to how loud it was! It took a lot of work and prayer to get to that moment and it surely paid off."
While it's brought its share of challenges, Rodebaugh wouldn't change his diagnosis.
"I count living with Autism as a blessing," Rodebaugh says.
---
Original Post: Will Rodebaugh sat amongst his fellow classmates ready to receive his Associates Degree from Manor College in 2019. As he listened to the commencement speaker talk about their life and what it took to finish their degree, Rodebaugh grew more motivated. He wanted to tell his story. 
His desire grew so intensely that he began crafting his speech soon after as an incentive to keep pushing forward. 
"I just really wanted to tell my story up there," Rodebaugh said. "I decided that I wanted to keep working hard, to keep doing whatever it took to be considered for that position."
In May, Rodebaugh achieved his goal of being the Commencement speaker. 
"I was shocked and over the moon," he said. "I always felt like if I worked hard, I could achieve that dream. Even so, it was just an honor to be nominated for that." 
***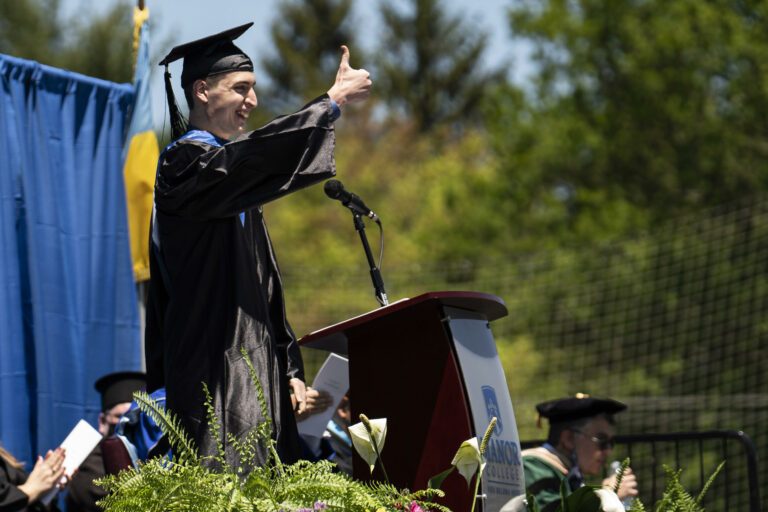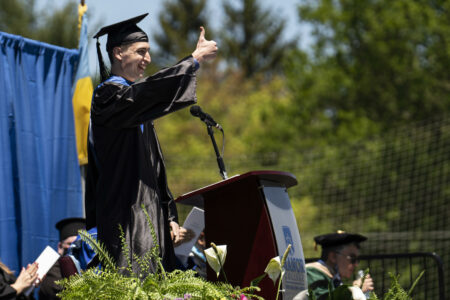 Rodebaugh is known for being involved during his tenure at Manor College. He ran cross country, indoor and outdoor track for the Blue Jays, was a student chaplain, served in the student senate and was president of the school's Rotaract club.
But he wasn't always "Mr. Manor." In fact, during his first semester, Rodebaugh was the "kid who'd be sitting in the corner with his earbuds in." He needed time to build an academic foundation before expanding his interests. 
"You need to make sure that you have a good foundation set up to succeed," Rodebaugh said. "You have to know what you need to do and how to manage yourself when it comes to your study habits. Then you can find more ways to contribute."
*** 
For Rodebaugh, Manor's strongest attribute is the institution's inclusivity. He remembers walking in the library as a student and seeing the school's slogan, "You Belong Here" in large letters. 
The slogan stuck with him through his senior year and when he received the honor of being the Commencement speaker for the Bachelor graduates, Rodebaugh made sure to let everyone know just how inclusive Manor College is. 
"There has never been a time that I felt like I didn't belong here," Rodebaugh said in his speech. "I have received so much love and support from the amazing people here and have always felt like I have been cared for. I am so happy that the Lord had Manor College planned in my life."
Will Rodebaugh is one of several Bachelor's graduates in the Class of 2021. To find out more about Manor College and how to apply, click here.