Black History Month Features, Programs and Events
Manor College is honoring Black History month with a lot of great educational and inspiring events and programs. Here you will find all of the different programs, events and features that are happening on campus to celebrate Black History month!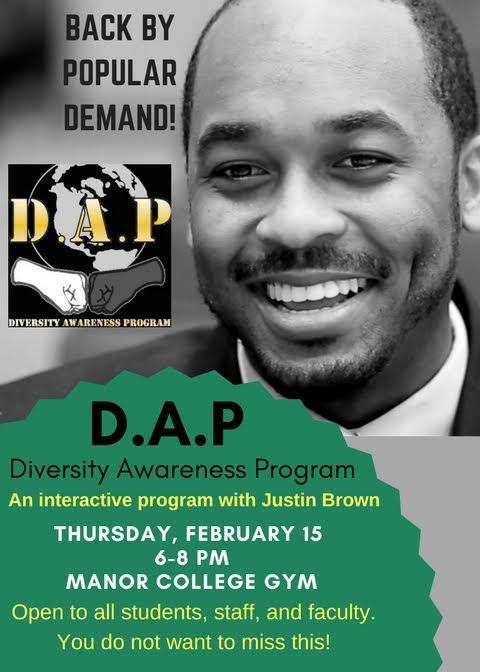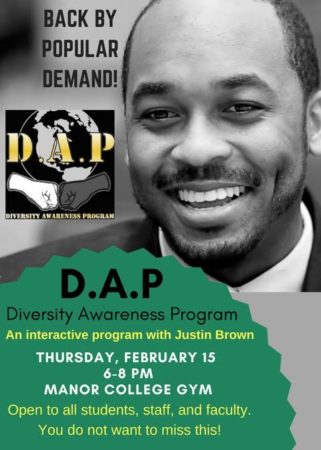 Thursday, February 15

, from 

6-8 PM
Student
 Engagement will be sponsoring a program entitled 
D.A.P-Diversity Awareness Program presented by Justin Brown
.  Mr. Brown performed at Manor College last year and 
students
, staff, and faculty loved his program so much that we invited him back for part two!
Mr. Brown's presentation "was designed to bring a variety of different races, people and backgrounds together. The program offers sincere diversity training as well as the development programs that stimulate the mind as well as the soul. The purpose of D.A.P. is to promote diversity and cultural awareness in all aspects of 
life
 to the 
stude
nts
, faculty, and staff on the University campus through active engagements of active discussions on social issues and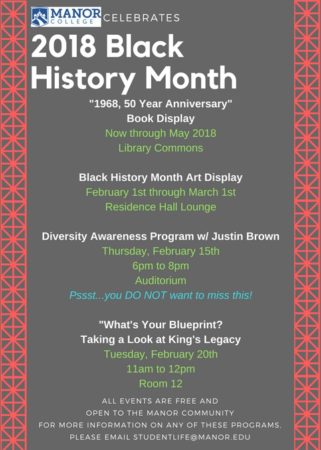 ideas."
Over on the official Manor College
Facebook
page – during each week in February, a short video
 featuring an African-American student, faculty, staff member or alumni. Watch all of these videos on the Manor Col
 We also have everything from an inspiring book display in the Basileiad Library to art displays that are happening all month long!