Baba Babee Skazala Screening at Manor Sheds Light on Ukrainian History
Baba Babee Skazala (Grandmother Told Grandmother) was screened to a full house on Wednesday night in the Manor Basileiad Library. Told from the first-hand perspective of those who lived through it, Baba Babee Skazala follows the story of Ukrainian families caught in the throes of World War II. The documentary featured additional historical commentary from Rutgers University professor Dr. Alexander Motyl, a renowned expert in the field.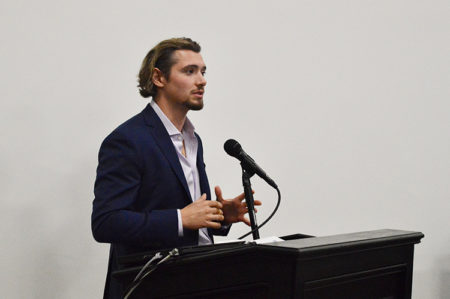 The documentary was the culmination of over 30 oral history interviews with survivors, and began with an overview of the oppressive Soviet occupation that left thousands dead, and many more displaced.  By the time the German occupation began, those in Western Ukraine were hopeful – Germany had a reputation for being the most cultured country in Europe. But this was Nazi Germany. Treated as untermensch, or subhuman, Ukrainians were seen as a source of free labor and food for the German nation. Several interviewees described slave-like conditions they were forced to undergo as children caught up in the conflict.
The upheaval and death that accompanied the war led many Ukrainians to migrate westward. After the war's end, many were relocated to Displaced Person camps. Interviewed survivors remembered the DP Camps as their first experience of happiness, safety, and culture after years of trying to escape war zones. Food was simple but accessible, and Ukrainians began to organize cultural bonding events throughout the camps.
In the Q and A session that followed, director Matej Silecky explained how the skills and culture shared at the DP camps contributed to the Ukrainian diaspora today: "I think that in a very inspiring way, it was a chance where the Ukrainians were able to learn from history, and I think that's something that comes full circle; history not just repeating itself – in this case, it's history used as a source of learning, and that's where the DP camps come in."
Silecky further explained that his interest in producing the film stemmed from the stories his grandmother had told him as a child. The documentary was a way to further contextualize the stories he had heard, through both interviews and previously unseen archival materials. Both Silecky's mother and grandmother were present in the audience.
Eventually, many Ukrainians such as Silecky's family emigrated further, opting to re-settle in South American countries, Canada, America, and beyond. The Ukrainians who came to America used the stories, songs, and dances they grew up with to help keep Ukraine culture alive, an ocean away.
Learn more about Baba Babee Skazala
To view more photos of the event, see our Flickr album