Summer Giving Week 2021: How to Encourage and Inspire Generations to Come
2021 Summer Giving Week kicks off on July 26 with the goal of turning three scholarship funds into endowments, helping future generations of Manor College students.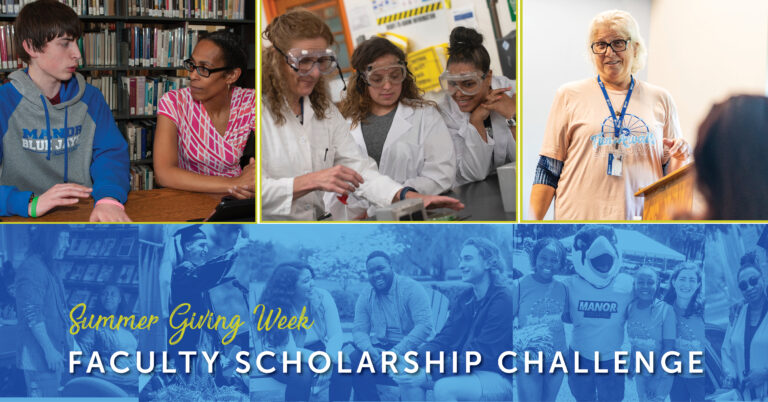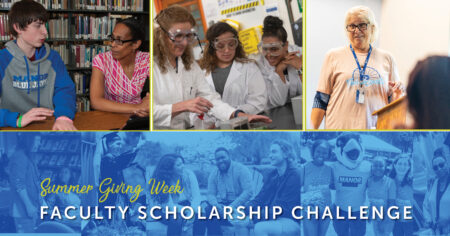 Students who come to Manor College and receive a personalized education go on to do great work in the community around them. After all, it's in the mission of Manor College to "provide education that generates a peaceful world, both inspiring confidence in the present and hope for the future." 
With the 2021 Summer Giving Week, Manor College is looking to assist our students trying to make our world a better place. This year, the goal is to turn three scholarship funds that were started by esteemed faculty members, into endowments. These scholarships already give a financial push to students who really need it, but growing the scholarships into endowments will mean setting up future generations of Blue Jays for years to come. 
The three scholarships are led by three faculty members and leaders at Manor College, all of whom showcase Manor's tagline, "You Belong Here" to our students. 
Here's more about the scholarships. To donate, click here. 
Crosby Service Leadership Scholarship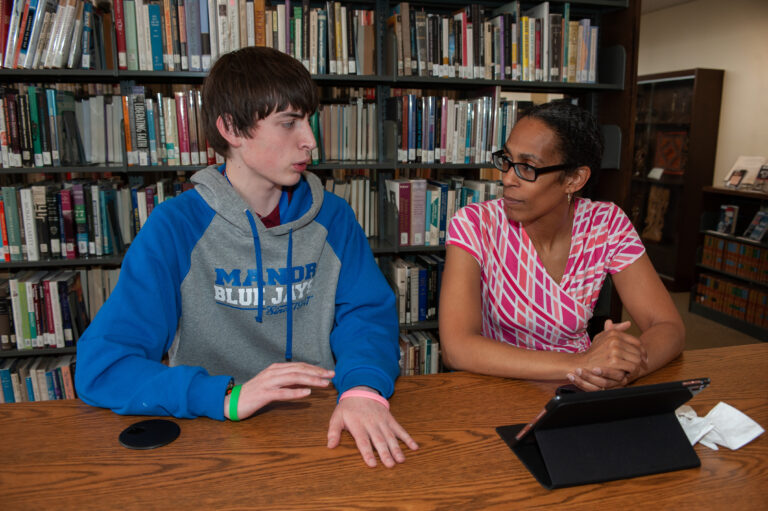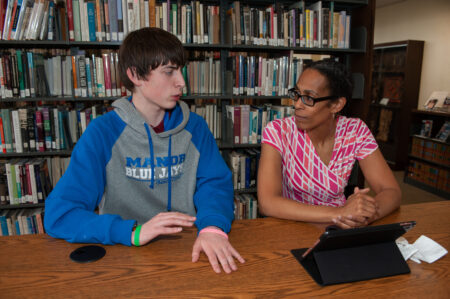 Dr. Cherie Crosby remembers how her father loved to play the lottery. One time, he hit it big, and decided to use his winnings to help out two families in their local church who needed the help.
On the day her father went to buy groceries with the matriarchs of the two families, Dr. Crosby took the children to the local toy store. Her father handed her $1,000 to get whatever the kids wanted. 
"That's just how my parents were," she said. "If they had it, they would give it. Now I live that way." 
At Manor College, Dr. Crosby started the Crosby Service Leadership Scholarship, awarded to students making an impact in their community. These are students who organized book drives, Thanksgiving baskets, serve children and so much more. 
"The scholarship is a way to reward their hard work," Dr. Crosby says. "They don't do service because they hope to get something back, but every gift has a ripple effect in helping others. This scholarship is a way to say, 'Hey, we noticed that you're making a commitment to giving back' and they're taking the time to do it."
The Judge Michael McHugh Scholarship Fund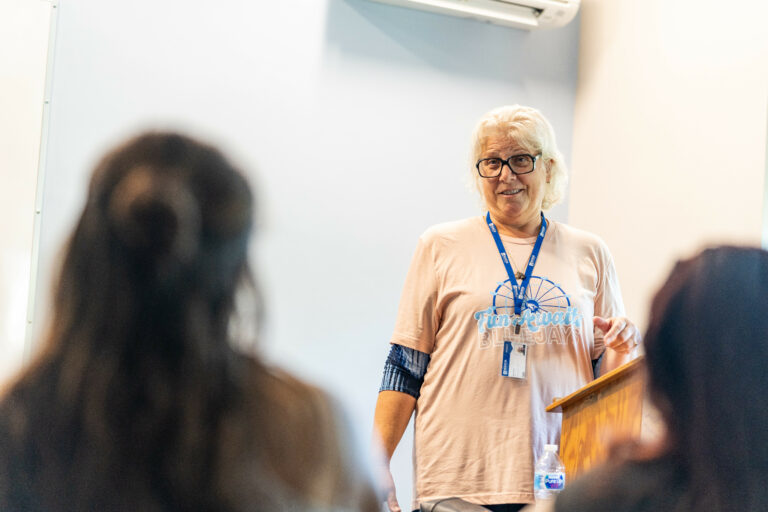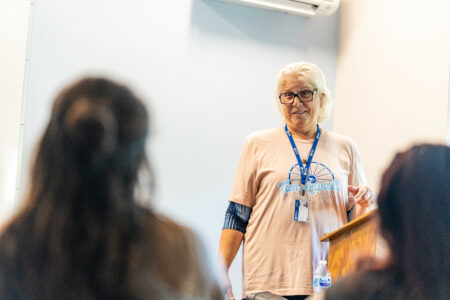 When Professor Mary Sims thinks about her former colleague Michael McHugh, she remembers the jovial, larger-than-life character who never hesitated to find a way to give back. 
"He'd walk down the hallway with a smile on his face or drop in to say, 'Hey, how ya doin?'" she said. 
McHugh served as a district justice in Cheltenham and taught business law at Manor College. He passed away at the young age of 47. He was such a legendary figure both at Manor and in the surrounding community that more than 1,000 people attended his funeral in 2004. 
"He was always involved in the community with sports and with his kids," Professor Sims said. "Even with all that, he was always finding ways to help out one more person."
A few years after his death, Professor Sims and others started the Judge Michael McHugh Scholarship Fund at Manor College, to help students in need bridge the gap in paying for school. 
"I believe in being able to give people a break sometimes," Professor Sims said. "There are people that have dire circumstances beyond their control. Those are the people who I try to reach." 
There's added motivation to help out, she said, because McHugh would've been the scholarship's biggest supporter. 
"He would've absolutely loved doing this," Professor Sims said. "He was the kind of person that, even if it was just a few dollars, he wanted to help people. The money from this scholarship always goes to someone in need because that's what Mike would've done."
The Navia-Senecoff Award for Hispanic STEM Students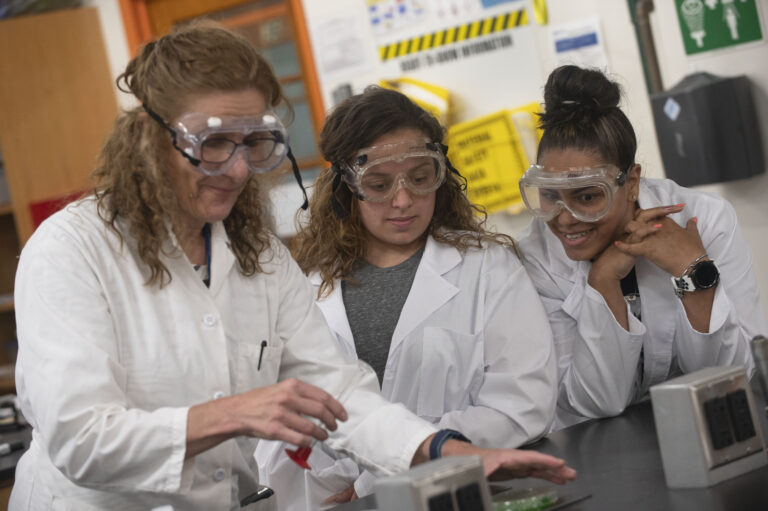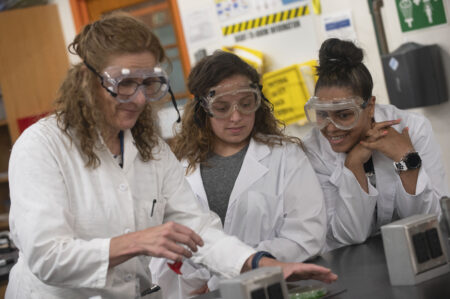 The inequities that exist in society, especially in higher education, were around long before the COVID-19 pandemic enveloped the world. But as the pandemic continued on, Dr. Julie Senecoff and her husband Dr. Juan Navia decided to make a difference. 
"We've seen an increased need for many services in our local Hispanic community due to loss of employment," Dr. Senecoff said. "Higher education provides a pathway out of poverty and makes people far less vulnerable during times of crisis." 
As scientists, the couple believed the most natural fit was to start a fund for Hispanic students in the STEM (Science, Technology, Engineering and Math) field within the Arts and Sciences Division at Manor College. 
"We hope others may be inspired to be part of this campaign specifically providing for marginalized and underserved students," Dr. Senecoff said. 
As the fund begins to grow, Dr. Senecoff carries high goals for the program. 
"Whether the funds are used to defray the costs of books, lab fees or tuition, we hope this fund will help students feel secure in finishing their studies at Manor," Dr. Senecoff said. "Everyone deserves to receive an education and pursue a chosen career. We all should do what we can to help."