Dental Hygienist
Dental Hygienist position available in Springfield in Delaware County. If you are interested, please email tom@verna.com or call 610-544-3777.
---
Dental Hygienist 
New Britain Dental Associates and Jenkintown Dental Associates are looking for dental hygienists to join their team.
New Britain Dental is looking for a hygienist from 8 to 5 for Wednesdays and Jenkintown Dental Associates is looking for a hygienist for Thursdays from 8 to 5.
For more information, please contact dsilvamd@gmail.com. 
Posted 6/17/20
---
Dental Hygienist
Premiere Smiles is seeking a Dental Hygienist to join their team in Berwyn, PA. The qualities that they are looking for include:
one year experience
positive attitude
willing to learn
pro-active
preferable to know EagleSoft system
able to do video exams on each patient she sees
able to spot dental issues each patient might have
able to recommend treatments to patients she sees
willing to make patients understand why they need dental work we recommend
able to call patients and schedule them if they are past due for a cleaning
Hourly rate of about $28-$30 per hour. A bonus system will be discussed in the interview
Please contact flori@premiersmilespa.com to apply.
Posted 6/16/20
---
EFDA (Expanded Functions Dental Assistant) 
Kennett Dental located in Kennett Square, PA is seeking a full-time EFDA M 8-5, T 8-5, W 10-7, Th 8-5, F 8-1). No HMO patients – all private PPO patients. Must be professional, personable, comfortable explaining dental treatment to patients and a team player. We have full PPE and detailed COVID-19 protocols in place to ensure the safety of staff and patients.
The scope of practice includes all functions of a DA plus placement of restorations. Our team will be able to experience all aspects of dentistry in a fun, caring environment.
Minimum Requirements:
H.S. Diploma,
graduate of Expanded Functions Dental Assistant program
State Radiology Certificate,
CPR certification
active State EFDA license.
6 months of dental assistant experience required or completion of externship.
Posted 6/3/20
---
Floater/Dental Assistant 
Butler Pike Periodontal Associates is looking for a Floater/Dental Assistant for their Ambler, PA office. Please contact Cathy Quig at (215) 643-4393.
Posted 5/11/20
---
Dental Hygienist 
Cosmetic Dental Practice seeking a dental hygienist to promote quality dental care for our patients in a stress‑free, safe environment within Langhorne, PA.  Candidate must be friendly, reliable, and team-oriented. A current license, CPR certification and a minimum of 1-year experience are required. Please send a resume to drctjdental@gmail.com.
Posted 4/17/20
---
EFDA
Dental Hygienist 
Henry the Dentist is looking for a dental hygienist. Hygienists work with our Associate Dentist and practice team  to provide the highest level of care to patients, including but not limited to: 
Supporting a friendly and positive work environment for colleagues

Providing patient treatments such as prophylaxis, x-rays, whitenings, Invisalign scanning, and other treatments as directed by the overseeing Dentist

Inputting patient records into patient software management

Maintaining a clean, sterile, and on-brand working facility

Having a flexible and exciting outlook on an ever-changing working environment
Please send resume to careers@henrythedentist.com.
Posted: 2/26/20
---
EFDA
Schwenksville Dental Care is seeking an EFDA who is dedicated and hardworking with prior dental practice experience to join their team. Applicant is required to be professional and polite at all times in dealing with patients and fellow staff members. Experience with Softdent is preferred but not necessary. Please email resume or letter of interest/job history to diane@schwenksvilledentalcare.com.
---
Dental Assistant 
Northeastern Dentistry is seeking a full time dental assistant for their Philadelphia office. If you are interested, please contact 215-825-8442 or email hr@northeasterndentistry.com.
---
EFDA 
A dental practice in Old City, Philadelphia is looking for a part-time assistant/EFDA. The hours are Tuesdays 8 a.m. to 5 p.m., Wednesdays 8 a.m. to 5 p.m. and Thursdays 8 a.m. to 4 p.m. This individual must be up to date on the latest protocol and be willing to work as a team. X-ray license is a must. Any interested candidates should email resume to sonrisa210@comcast.net.
---
Dental Assistant 
Endodontic office located in Center City Philadelphia is looking for a reliable and caring individual for a full-time (4 days/week) dental assistant/receptionist. It's a quality oriented endodontic practice with a friendly and respectful atmosphere.  Dental office experience preferred and dental x-ray certification is required. Interested candidates should should send their resume to info@medartendo.com. 
---
EFDA Position
Noble Dentistry is looking for an Expanded Functions Dental Assistant. Candidates must be proficient in placing composite restorations, fabricating temporary crowns, and bridges and making patients feel comfortable.
Interested candidates should email kearaelyse@gmail.com.
---
EFDA Position 
Ensuring Smiles Dental is seeking an EFDA. The assistant will work with the dentist to perform four-handed dentistry, and will also be comfortable working independently to place composite restorations and fabricate temporary crowns and bridges. Experience with digital x-rays, intra-oral cameras and scanners is highly desirable. Other responsibilities include inventory and lab management, as well as instrument sterilization. Current PA EFDA license, x-ray license, and CPR certifications required. Employee must be willing to undergo a background check.
---
Dental Assistants for Externship
Northeastern Dentistry is seeking Dental Assistants. Applicants must
be able to multi-task and complete dental tasks correctly and on time
demonstrate strong interpersonal skills, listening to patients' needs and posses a friendly and outgoing demeanor
preferred knowledge of Open Dental an Microsoft Office
Have a High School diploma or GED
Currently enrolled in a Dental Assistant program at a school
Applicants can send their resumes to hr@northeasterndentisry.com 
---
Surgical Dental Assistant 
Periodontal/Implant Surgical Practice is seeking a full-time surgical dental assistant. Applicants should be experienced, personable, energetic and motivated. Duties and responsibilities include:
Receive patients and prepare them for necessary dental procedures; 

Prepare surgery for dental treatment with correct instruments/materials ready for use as directed by operator; 

Record findings in patient records legibly and accurately from the oral examination; 

Provide instruments and dispense materials as directed during oral examination or treatment; 

Provide pre- and post-operative care for patients; 

Clear the patient's mouth of saliva or dental materials used in the treatment by operating handheld suction or air and water-spraying equipment; 

Clean and sterilize instruments, clean and straighten the surgery area and implement standard decontamination procedures for infection control; 

Expose Digital X-rays and CT Scans 

Maintain and re-stock dental supplies 

Perform routine care and maintenance of dental equipment and instruments
Please contact Jennifer Scamuffa, Office Coordinator, at jks@aperidoc.com.
---
Dental Hygienist
City Line Dentistry is looking for a registered dental hygienist for a part-time position. The hours are Mondays, Tuesdays and possible Friday mornings. X-Ray license is required and Anesthesia license is preferred. Email citylinedentistry@gmail.com to apply.
---
Orthdontic Assistants
We have an opening for orthodontic assistants F/T or P/T Monday though Friday hours are 830 to 530 Dental Solution office various locations in PA xray license required contact Elaine 856 853 0066 or email dsorthoofc@dentalcarealliance.com
ORTHODONTIC DEPARTMENT
610-627-2000
Job posted: 12/3/19
---
Dental Assistant
Come join our growing dental team in Abington, PA!! We are a state-of-the-art facility that has expanded and needs your help. We are seeking to hire a Dental Assistant to join our office. If you're serious about your next job, we are a perfect place to get ahead.  Dental experience preferred, but not required.  Benefits include medical and dental, Paid time off, Paid holidays, and continued education training.  Please contact Reese at reese@cgdentalgroup.com  We look forward to hearing from you!
Job posted: 11/19/19
---
Orthodontic Assistants
Looking for orthodontic assistants for various locations in PA   Dental solutions offices 830 to 530  contact elaine 856 853 0066   thank you!!
ORTHODONTIC DEPARTMENT
610-627-2000
11/14/19
---
Dental Assistant
To whom this may concern,
Dentists on the Square is looking to hire a dental assistant to join our multi-practice in Rittenhouse Square.  If you know of any experienced candidates have them send resume to info@dentistsonthesquare or to our office manager Nicole, dotsnicole@outlook.com.
Dentists on the Square
1845 Walnut Street, Suite 950
Philadelphia, Pa 19103
215-567-0110
Job posted: 11/4/19
---
EFDA 
My name is Scott from Chester County Dental Arts, a General Dentistry Practice in Chester County, PA (about 10 minutes from Exton).  Our growing practice is looking for an experienced EFDA to join us and work alongside our cutting edge Doctor, Dr. Mark Simeone, assisting in a variety of dental cases to include implants, full mouth restoration, etc.
We are looking for somone who can work independently and does not mind assisting with filling cases. Also, please feel free to check our website:  https://www.chestercountydentalarts.com/
email: Scott@chestercountydentalarts.com
Job posted: 10/23/19
---
Dental Hygienist 
Our dental office is looking for a motivated Dental hygienist. We want a team player who is going to be a addition to our fast paced environment focused on maintaining high quality of work and also meeting the required goals. Should be proactive with keeping their schedule full, productive and also comfortable with informing patients of available services.
Candidate should be willing to take responsibility of ensuring very high level of quality dental care , providing patient education and customer service.
Maintain clean – professional clinical environment and also able to take good diagnostic X-rays, intra-oral pictures if needed.
Able to schedule recall appointments, detailed charting and maintenance of chart records.
Always work as a team member with emphasis on communication.
Anesthesia license is plus.
Job Type: Full-time
Experience:
Radiology Certification: 1 year (Required)
Dental Hygienist: 1 year (Required)
hygiene: 1 year (Required)
Education:
High school or equivalent (Required)
Additional Compensation:
Bonuses
Work Location: 1044 Byberry Rd near Bensalem Blvd
Please email smiles4ubensalem@gmail.com for more info
Job posted: 10/21/19
---
Dental Assistant
I am looking for a dental assistant for my small family dental office.  Our office hours are Monday Tuesday and Thursday 10AM until 7PM.  Friday 10AM until 2PM and Saturday 9AM until 1PM.
I need someone with a  NJ x-ray license who is familiar with Dexis software.  It would be helpful if the candidate knew our office software, Dentrix.  Compensation is negotiable with experience. My office is located at 1350 Chews Landing Road in Laurel Springs New Jersey.  We are about 15minutes from the Walt Whitman bridge.
 I would be happy to answer any questions, our phone number is 856-227-4200
Hal M Hirsch, DMD, FAGD
Job posted: 10/8/19
---
Dental Hygienist 
16 E 1st Ave –Trappe, Pa 19426
      (610)489-9005
Fast paced, private practice dental office in Collegeville seeking part time Registered Dental Hygienist.
Mondays and Thursdays 11am-8pm; Must be willing to work evenings; No weekends.
Ideal candidate must be friendly, team player with a positive attitude
This is a permanent position with room for growth.
Must hold the following license:
-Registered Dental Hygienist in PA
Job Type: Part-time
Job posted: 9/25/19
---
Dental Hygienist 
I am contacting you on behalf of Dentistry At Walker Square in Dover De.
We are currently looking for a fulltime hygienist to work Monday-Thursday, office hours are 7am-5pm with a 1 hr lunch break. Thursdays are half days. Current pay ranges between 35-40$/hr depending on experience. We do have benefits depending on if employees want them. Please have anyone interested follow up via email or call me directly at 3025316542
---
Dental Assistant
1. Endodontics Unlimited Needs Dental assistant  215-969-1222
2. Personal Care Dentistry  needs dental assistant   215-335-4955   In NE Phila.
Job posted: 9/20/19
---
Dental Hygienist
Seeking a Registered Dental Hygienist with Anesthesia License.
Contemporary, fast- paced dental office setting with excellent pay for the right candidate.
Part time hours:Thursdays 7:30-5.
Friendly and helpful staff
Job Types: Part-time
North Penn Dental Arts
1570 Sumneytown Pike,
Lansdale.PA.19446.
Tel: (215)361-2040
Job posted: 9/19/19
---
 EFDAFull time position available in Hatboro. We are a general family dental practice that has been established for 63 years. We are looking for an experienced EFDA to join our team. We are looking for someone with great organization skills and a friendly, caring patient focused attitude.

To learn more about this position please call our office to set up an interview.

215-675-4090

Job posted: 9/18/19

---

Dental Hygienist 

  We are a dental practice in Yardley, Pa (Dr. Sean Laurilla DMD)  and are  looking for a part time Hygienist for Monday and Wednesday to be part of our team.  If you could please post this job opportunity or if you know of a Hygienist that would be interested, please have them call our office.  215-968-5422

Thank you

Renee Dierolf

Office Manager

Job posted: 9/16/19

---

Dental Assistant

Blue Bell PA

We are looking for a dental assistant to join our team. Are you looking to utilize your skills in a professional, friendly environment?

Requirements
1. Prior dental assisting  experience
2. Dental X-ray license
Helpful
Degree or Certificate from college or technical school.

Position for Tuesday 8 to 6 pm
Wednesday 8 to 6 pm
Thursday 8 to 5 pm.
Contact Chris for an interview
609-703-9021
Job posted: 8/20/19
---
 EFDA
We are looking for an EFDA for Monday, Wednesday, Thursday and Friday 8:45 am – 5pm
Tuesdays would be rotated and require working 11-7 some weeks.
Modern, faced-paced, pediatric dental practice is looking to add an EFDA to our team IMMEDIATELY!
We are seeking an energetic and reliable Expanded Function Dental Assistant to support the clinical treatment care of our patients. As an EFDA with our practice, you will play a large role in the provision of effective dental services.
Recent graduates welcome to apply. Dentrix experience preferred, but not required. FBI/State Police/Child Abuse clearances will be required within 30 days of starting employment.
If interested, please respond with your resume to Jen@cobblestonekids.com – as interviews are starting immediately
Job posted: 8/7/19
---
Dental Assistant
Gross and Sons Family Dentistry
Location: Northeast Philly
Contact:
P:215-673-8887
Job posted: 8/7/19
---
Dental Assistant
NorthEastern Dentistry has multiple locations throughout the northeast United States, but is unique in its ability to retain a very community-based practice in each location. Each office is staffed with local professionals and maintains a very welcoming, comfortable atmosphere. Each team is very friendly, knowledgeable and devoted to make every patient feel at home. In fact, some patients feel so comfortable with us, they stop by just to say hello!
Every office is equipped with state-of-the-art technology, including digital x-rays, intraoral cameras, Virtual Goggles, and clear cosmetic braces. Each operatory is clean and maintains optimal conditions. All of these services are offered at very affordable prices.
Our patients can visit any office and receive the same extraordinary care and comfortable surroundings. We treat every patient with dignity and respect. Our patients' oral health is our primary concern.
Mission Statement
At NorthEastern Dentistry, we are committed to care for every patient's oral health, regardless of age, gender, race, income, or insurance status. We will provide exemplary care with affordable prices, flexibility with copayments, and payment plans.
Job Summary
Able to multi-task and complete dental tasks correctly and on time. 

Demonstrates strong interpersonal skills, listening to patients' needs and possesses a friendly and outgoing demeanor. 

Preferred knowledge of Open Dental and Microsoft office 

MINIMUM QUALIFICATIONS:  High school diploma or GED. 

Currently enrolled in a Dental Assistant program at a school 
The Externship Dental Assistant's mission is to support the dentist in providing excellent, high-quality care to patients at a pediatric dental practice according to state requirements. 
Candidates can send their resumes at hr@northeasterndentistry.com , qualified resumes will be considered immediately.
Job posted: 8/6/19
---
Dental Workers
Staff Dental is looking to hire students/graduates from Manor for part-time dental work.  Our Philadelphia-based company uses technology to match dental offices with part-time dental workers.  We are different from other dental staffing agencies in our ease of use, review/favorite system, and focus on immediate or short duration hiring.
Staff Dental is accepting current students and graduate applicants in Dental Hygiene, Dental Assistance, and EFDA.  Part-time externship hours are available for current students.  All applicants do not need to be radiology certified, they designate certifications like these during on-boarding.  Applicants should be willing to work within the Tri-State Area.  Those seeking employment outside of the Tri-State Area are still encouraged to apply and can be notified when we expand to cover their region.  Applicants can apply on the homepage of our 
website
 or by emailing 
Elliot@staff.dental
.
Job posted: 8/6/19
---
Full and Part Time Dental Assistants
We are expanding our team of dental assistants in your area, and are interested in recruiting dental assisting graduates and current students. Contact Tanner.Holmes@SmileDirectClub.com or via phone at 615.933.3190. 
Available jobs, country-wide
Read more about Smile Guide's available job openings
job posted: 8/6/19
---
Dental Assistant/EFDA
Dental practice in Northeast Philadelphia with large staff looking for a full time EFDA or dental assistant with passionate energy, integrity and a high level work ethic. Candidate must be positive, hard working, detail oriented, reliable, enthusiastic, have good communication skills and comfortable talking to patients about treatment. This is a family practice and we are seeking someone who is looking to build a long and permanent relationship with the fellow staff and patients. Certifications for dental Radiography are required.
Duties include, but not limited to: Prepare patient, sterilization, set-up and breakdown room, prepare materials, assist dentist and other staff during dental procedures, place restorations, fabricate temporaries, education of patients pre and post care, access electronic records and take radiographs as needed. System used in office are Dentrix/Dexis. Willing to train right motivated applicant for full time or part time position. Competitive Compensation and Benefits to be discussed. Opportunities for additional training and mentorship available.
Must be an excellent communicator/ patient motivator. If you are a team player with a positive attitude and would like to be considered for the position please forward your cover letter/resume with compensation requirements. Please submit copy of CV/Resume with References to estigrossandsons@gmail.com.
Job posted: 7/31/19
---
Dental Hygienists 
We are growing and so is our team!
42 North Dental is pleased to invite Dental Hygienists to join our talented dental team.
We have full-time and part-time positions available to fit your needs
WHO ARE YOU?
A dental hygienist with a license in good standing in MA or NH
Loves to work with patients
Focused on patient education
WHO ARE WE?
A dental support organization supporting award-winning, modern practices across New England
with a strong focus on quality, service, and employee and patient satisfaction.
PERKS
Health Insurance
Dental Benefits
Life, Disability and Accident Insurance
401 K
Paid Time Off
Paid CE Courses
Peer Support from fellow Dentists and Hygienists
CONNECT WITH US
Please send a resume to Karonne at karonne.brennman@42northdental.com
Visit us at 42northdental.com/careers
Job posted: 7/29/19
---
Orthodonic Assistant
Bucks County Orthodontics in Doylestown, PA, is seeking an exceptional Orthodontic Assistant to join our growing team!
Our ideal candidate will help us continue to surpass our patient's expectations as a flexible team player with a warm, friendly, upbeat and outgoing personality. Join a team that has fun while providing excellence!
Visit www.BucksCountyOrthodontics.com, @BucksCountyOrthodontics on FB or @bcortho on IG to check out Dr. Welsh, our BCO Team & our awesome office culture!
Why join BCO?
Amazingly Fun Environment
Growing Practice
Hands-On, Engaging Doctor
State-of-the-Art Office
Highly competitive compensation including Benefits, Paid Holidays, Bonus opportunities, a uniform allowance and free braces for team members and their immediate family members!
Strong Community Involvement
Consistent Hours
World-class Training
Required:
Upbeat, Positive Attitude
Team Player
Willingness to engage in social media & marketing
Energetic, detail-oriented people-person
Strong work ethic, fast learner
Exhibit high level of professionalism
Computer knowledgeable
Consistent Availability
CPR & X-ray Certification
Dental assistant experience is required
Preferred:
One (1) or more years of experience as an Orthodontic Assistant
Experience with Orthotrac Dental Practice Management Software
Digital scanning experience
If you are interested in a career with Buck County Orthodontics, please send us your RESUME to::   tia@buckscountyorthodontics.com
We are excited to hear from you!
*** In order to provide our patients with 100% of our attention during the day, we ask that you please do not call the office for questions about career opportunities at Bucks County Orthodontics.
Experience:
orthodontic assistant: 1 year (Preferred)
dental assistant: required
Education:
High school or equivalent (Required)
Location:
near Doylestown, PA (Preferred)
Language:
Work authorization:
Dental Specialty:
Job posted: 7/22/19
---
Job Description: Dental Assistant                                                                       
Orthique LLC is a private dental company focused on delivering beautiful smiles to customers for an affordable price. Orthique offer customers custom-made clear aligners to straighten teeth for over 60% less than traditional braces. We offer an at-home solution to traditional braces that makes treatment convenient and safe.
As a dental assistant, you will act in a liaison role for Orthique. We have several scan centers located throughout NJ and NY. At our scan centers, you will explain to potential customers about Orthique's clear aligners as well as how treatment works.
A background in dental is preferred. The ideal candidate is graduated or currently enrolled in a dental assistant or dental hygienist program. Our leadership team can provide you with all the tools you need to understand our product. It is important that our salesperson become very familiar with how clear aligners work and the customer's benefits to working with Orthique versus competitors. You'll work with our Orthique support team as well as local partnered dentists. An outgoing and friendly personality is an absolute MUST for this position.
NJ and NY Locations: Bridgewater, Edison, Wayne, Jersey City, Elizabeth, Staten Island
Primary Responsibilities:
Introducing yourself to passing customers and inviting them to learn more about Orthique and our clear aligners. Managing the days pre-scheduled appointments

Create a positive experience and relationship with the customer with an outgoing and friendly personality

Explain the difference with Orthique, and what sets us apart from competitors.

Closing sales and signing customers up for our Orthique clear aligners

Schedule appointments for customers who wish to come in to one of our dental offices for in person consults/additional dental work.

Communicate with our support staff for customer follow up questions/issues.

Stay in communication with the support team to ensure follow ups and accurate customer relationship management.
* These primary roles are subject to change as the company grows and evolves, there is opportunity for growth within the customer management role as Orthique expands to new locations. The ideal candidate will bring an open mind and positive attitude to take on new challenges and responsibilities as his/her role evolves.
Compensation:
$14/hr plus incentive programs
Medical
401k
Required Qualifications:
High School Diploma / GED or higher

Previous experience working with Microsoft Office in Word (creating, saving, formatting documents), Excel (ability to create, copy, edit, send, data entry, and save spreadsheets), Outlook (ability to open and send emails).

Must be willing to work hours of Mall: This includes up to potentially 10:00pm during Holiday Hours
Preferred Qualifications:
Graduated or currently enrolled in a dental assistant program

Prior experience selling dental or cosmetic products or services

Prior experience working in medical office or using practice management software
How to Apply: Please email resume to Support@orthique.com with subject title: "Dental Assistant"
Orthique LLC is an Equal Employment Opportunity employer and all qualified applicants will receive consideration for employment without regard to race, color, religion, sex, age, national origin, protected veteran status, disability status, sexual orientation, gender identity or expression, marital status, genetic information, or any other characteristic protected by law.
job posted: 7/2/19
---
Hygienist
Location: 3528 St Lawrence Ave Reading, PA 18062
Great Oak Dental Care is looking for a hygienist to join our office. We have a patient focused approach with an emphasis on patient health. We expect our hygienists to feel comfortable screening for and treating periodontal disease in a supportive environment with excellent supporting staff. If you'd like to join our team please submit your resume with a few words on what would make you a great addition to our team. New grads welcome to apply. Dentrix knowledge and bilingual (spanish) would be a plus.
We look forward to hearing from you. Email:greatoakdc@gmail.com
Job posted: 6/17/19
---
Dental Hygienists, Assists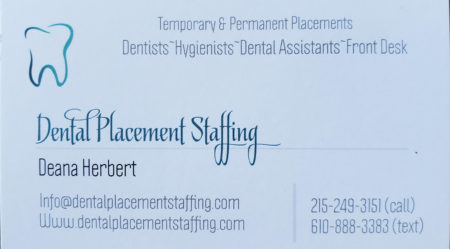 Job posted: 6/14/19
---
EFDA
Doc Breslers' Cavity Busters looking to hire a full-time EFDA for our Roxborough location.  The hours would be Tuesday 8:30am-5:30pm, Wednesday 9am-7pm (for the summer, beginning in September the hours will be 10am-7pm), Friday 8:30am-2:30pm (for the summer, beginning in September the hours will be 8:30am-5:30pm), Saturday 8:30am-2:30pm.
We offer paid vacation, personal, sick, and holidays. We will also consider candidates for part-time hours.
Experience with pedo is not required – we will train the right candidates!
Resumes can be e-mailed to NicoleVF@cavitybusters.com
Nicole Orsatti / Clinical Coordinator
Doc Bresler's Cavity Busters
(T) 215.483.6633
Job posted: 6/12/2019
---
 EFDA
for West Chester Orthodontics. My office works closely with Suzanne Politis from Crest/OralB.  We are looking to hire an EFDA in our office to work as an orthodontic assistant. The position is full time (Mon 7:45-6, Tues-Thurs 7:45-5 and Fri 8-12) with opportunities for bonuses and extra hours plus excellent benefits.
The students can contact me directly at the below information.
Job posted: 6/12/2019
---
 Part-time Surgical Assistant
Bucks County Oral and Maxillofacial Surgeons, PC
467 N. Main Street
Doylestown, PA 18901
215-348-0909
Bucks County Oral and Maxillofacial Surgeons, PC is seeking a Part Time Surgical Assistant with dental and/or oral surgery experience.
We are looking for the right person who has superior patient care and excellent customer service skills.  Applicants must be personable, punctual and professional.
Position Available
Part-time Oral Surgery – Surgical Assistant

20 hours per week
Locations
Main office – Doylestown

Satellite office – Quakertown
Responsibilities and Duties
Preparing operatories for surgery

Assisting with IV and local sedation for surgical procedures—extractions, bone grafting, dental implants, etc.

Assist with consults and post-op appointments

Taking x-rays

Communication with patients regarding pre and post-operative instructions

Monitoring patients post-surgery

Maintaining sterilization of instruments

Demonstrate knowledge of dental instruments and proper tray setups

Accurately document patient clinical records

Maintain supply inventory

Maintain cleanliness is surgical rooms and all working areas
Salary:  
Competitive salary based on experience
Experience:
Dental Assisting

Oral Surgery Assisting

Computer skills
License:
CPR Certified

X-ray Certification
Contact:
Cindy Stevens
Job posted: 6/10/19
---
Dental Assistant
Seeking Dental Assistant for dental office in NE Philadelphia.
Must have at least 1 year of experience as a dental assistant. X-ray certification is required.
Hours are from Monday-Thursday 1pm-8pm.Please send resumes to rdentalsg@gmail.com or call (215) 725-8960.
Job posted 6/4/19
---
Dental Assistant
Bucks County Dental Design
95 Almshouse Road, Suite 201
Richboro, Pa. 18954
Wonderful opportunity to join our expanding Dental Practice.  We will consider a Full or Part Time
Candidate for our Dental Assistant Position.  Please call Phyllis at 215-364-2421 or cell 215-290-1667   
Job posted: 6/4/2019
---
Dental Assist
The position is a Full time Assisting position in the Plymouth Meeting area.
I am a general dentist and we work mon-thurs.
Progressive office that practices all phases of dentistry including implants.
If interested please email resume to
Marcbakerdmd@verizon.net
Fax to: 610-279-9484
Job posted 6/4/2019
---
Dental Hygienist
Large busy Center City Philadelphia dental practice, Jefferson Dental Associates, has a position open for a part time Dental Hygienist. Hours are Monday, Tuesday, and Thursday 8am-5pm with the chance of additional hours.
Job posted: 5/30/19
---
EFDA
Well established, state-of-the-art dental practice in the Frazer/Malvern area is looking for a full-time EFDA.
Job Details:
Experience preferred.
X-ray certification REQUIRED.
Great salary and benefits.
Please feel free to fax resume to (610) 993-0446 or email to frontdesk@frazerdentalcare.com.
Hours are:
Mon – Wed, 9:45 am – 7:15 pm and Thurs, 7:15 am – 7:15 pm (possibility to leave at 5 or earlier every other Thursday).
Job posted: 5/21/2019
---
Dental Assisting
Part Time Dental Assisting Position/Potential full time Opportunity in the future.
Attention New Graduating Dental Assisting Students: We have a great office for you to work in and our Dr. is willing to train and is a great mentor. Xray and CPR certification is required.
Family practice seeking applicant that is self motivated, friendly and passionate about providing patients with a positive dental experience. One to two day shift opening available to start with the potential for additional hours. Front desk experience a plus and opens up many possibilities.We have a wonderful practice and work with a great team and an amazing Doctor. Our family practice was established in the 1950's with Dr. Vincent Baldassano. In the 1980's his son Dr. William Baldassano joined the practice. Currently only Dr. William Baldassano is practing and the only dentist at our practice. We have 5 different hygienist's that work out of 2 OP's daily. Our facility just completed an addition and complete exterior and interior face lift. Our practice has state of the art equipment including our new Cone Beam and in house E4D. We are looking for someone who is interested in joining our family. I work with a doctor who is very respectful and appreciative of his employees. I am very fortunate to manage the women that are his team. If you are truly interested in the position please forward me the days and hours that you are available ASAP. I look forward to hearing from you and have a great day !
Please forward your resume, references, certifications to dr.baldassano@gmail.com attention Joy DiWilliams ASAP
Job posted: 5/21/2019
---
EFDA, Dental Assistant
Harmony Dental- Ft. Washington/Sleek Dental- Southampton- hiring assistant and an EFDA- email resume to 

sam@harmonydentalhealth.com

Warrington office looking for an assistant or EFDA-  It's a full time position. Must be x-ray certified, great with children, and comfortable communicating with parents. Orthodontic experience a plus. Any interested applicants can send a resume to 

info@doctorcaren.com
Job posted: May 8, 2019
---
Hershman Family Dentistry
Lafayette Family Dentistry
Lafayette Hill, PA
and
Broad Axe Family Dentistry
Blue Bell, PA
We are growing in both our offices and require an EFDA. We need to cover approximately 30hrs.
On staff are 5 dentists in two general practice offices. Among the five dentists, this is a great opportunity to experience all areas of dentistry.
Job posted: 4/25/19
---