Give to Learn, Inspire Excellence Campaign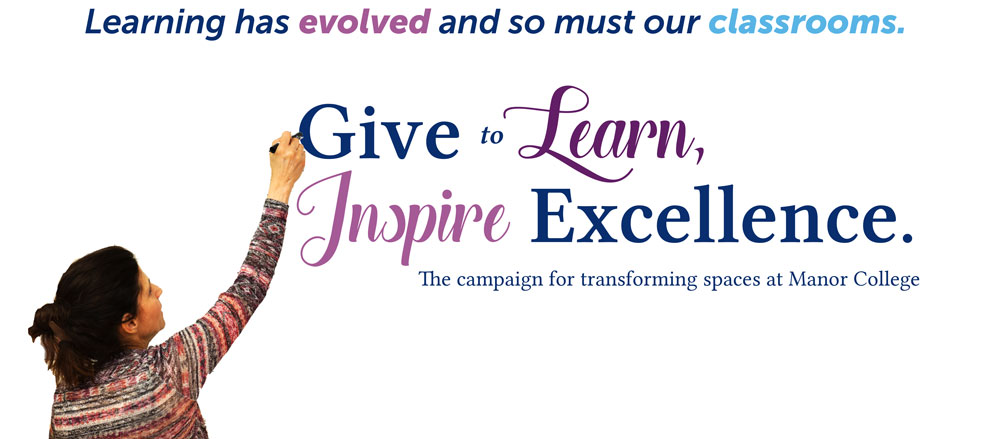 THE GOAL: To fully renovate all 14 classrooms to cutting-edge learning spaces. For every $25,000 raised, Manor can renovate one classroom.
Fresh Environment + Adaptability + New Technology = The New Manor College Classroom
Support the Give to Learn, Inspire Excellence campaign and help to create a welcoming and energizing space that enriches the learning experience.
With a fresh new look and feel each classroom incorporates that latest technology and the opportunity
for students to get plugged-in. Students come to Manor excited about their future. Our unprecedented 10:1 student-teacher ratio and new classroom learning environment will help current and future students feel welcomed, supported, and ready for success.
A Fresh Environment
Environmental conditions can enhance or hamper learning. The new Manor classroom support and enriches the learning experience. New floors, ceilings, lighting, windows and a fresh coat of paint provide a welcoming and energizing space. While new heating, air conditioning and ventilation create a comfortable atmosphere conducive to learning.
Adaptable Workspaces
Flexible learning environments improve student engagement and outcomes and help prepare them for success. Manor's new classrooms have the flexibility to transform over multiple platforms going from the traditional lecture design to formats that accommodate student presentation, peer to peer, small group interaction and much more. Larger table top desks better accommodate student books, materials, and electronics and the seating lends itself to stay comfortable throughout the duration of every class (no matter how short or long!)
New Technology
The new Manor classrooms will incorporate that latest technology that supports new learning behaviors. Apple TV and a fully integrated interactive projection system will not only enhance the curriculum but improve the learning process. All rooms will also have ample space and options for digital devices and opportunities to plug in, charge up and use!