About the Student Speakers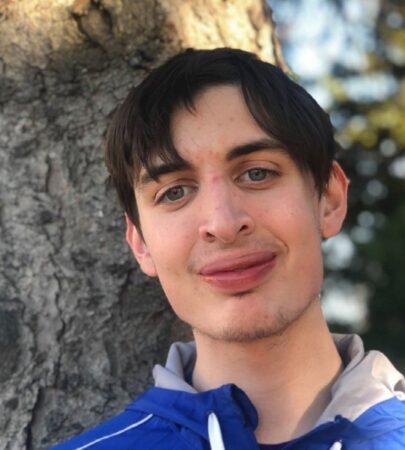 WILLIAM RODEBAUGH, III
William F. Rodebaugh III, from the Class of 2021, will deliver the commencement address today representing those graduating with a Bachelor's degree. Will is graduating with a Bachelor in Science Business Administration degree with a 4.0 GPA and member of Phi Theta Kappa Honor Society.
As a Philadelphia, Pennsylvania resident, Will graduated from The Keystone School, which is a homeschool curriculum that prepared him well for Manor College. This is not Will's first graduation from Manor College, as he graduated from Manor in 2019, earning his Associate in Science degree with a focus in business administration. 
Will says that he chose Manor because of the personal campus feel, interactive classes and close distance to home. "I am a very social person so Manor was a great fit for me. I am very glad that I chose Manor because I made great friendships, joined wonderful clubs, activities and sports teams and accomplished so much."
Will has been an important fixture on campus during the last four years, notably being involved in just about every student activity he could – serving as a campus chaplain and leading Bible studies, running for the Blue Jays as a member of the Cross Country and Track and Field teams, serving as Secretary of Student Senate and as a member of the Campus Activities Board, and volunteering for numerous service projects. 
"I would describe my last four years as being on Cloud Nine," says Will. "I accomplished and learned so much, and I will never lose the feeling I got when I approached Manor's doorsteps every single day. I would like to thank all the professors, staff, and fellow students who have made my days at Manor nothing short of amazing."
Will is currently seeking a full-time job in the marketing field. He has a strong passion for writing and would love a job where he can use his skills. 
Will's advice for future and current Blue Jays is to get involved at Manor. "Join a sports team, join a club, go to an event, just do something that's social," he says. "You never know who you could meet or what you could accomplish. Keep that open mindset and stay motivated, college is only a short time in comparison to the rest of your life, so do what you can to make it count." 
MADELYN RIVERA
Madelyn Rivera, from the Class of 2021, will deliver the commencement address today as a representative for those graduating with an Associates degree. Madelyn, a member of Phi Theta Kappa Honor Society is graduating with an Associates in Science Pre-Nursing degree with a 3.9 GPA.
As a Philadelphia, Pennsylvania resident, Madelyn graduated from Olney High School and came to Manor College when a friend recommended it to her. Madelyn, being a working mother of three to Angel, Adrian, and Alayna, says that she loved the flexible course schedule and intimate family feel that Manor offered her during these last two years as a student.
Although Madelyn's time physically on campus was cut short due to the COVID-19 pandemic, she describes her experience at Manor College as "amazing!" She was attracted to Manor because of the professor/student interaction and communication style – and says, "Moving my classes to online full-time was hard for me. I'm more of a visual learner; however, the professors were understanding and helped me whenever I asked for it. The staff, faculty, everyone at Manor really do make you feel like you belong here."
Madelyn is looking forward to pursuing her bachelor's degree and becoming a registered nurse and, eventually, a masters degree to become a nurse practitioner. 
Madelyn's advice for future and current Blue Jays is to "keep working hard towards your goals. Things will be tough, you will get stressed and want to quit – but remember why you started and remember what your goals are. It will all be worth it in the end."
Congratulations to William Rodebaugh, III, Madelyn Rivera, and all of our graduates at Commencement 2021!