Manor College is looking for student and alumni match stories!
#ManorMatches wants to capture your favorite Manor memory about the special person in your life.
Did you meet your spouse or significant other while at Manor?

Did your best friend who has stood by through the years start with you at Manor?

Did your sibling attend Manor, inspiring you to attend as well?

Did Manor help you find your mentor?
If you answered yes to any of these questions, submit your #ManorMatches story and photo below.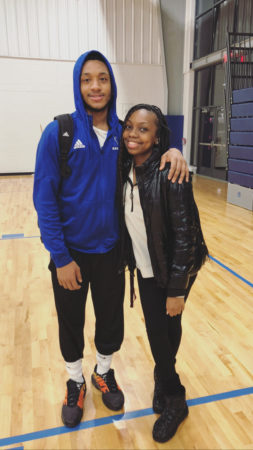 Tori + Malik
Who knew a bonfire and s'mores would bring two people together? Even though Malik couldn't be there due to basketball practice, I saved him some s'mores and we have been inseparable since. Sharing so many memories through this school year I can not wait to continue our journey through college together.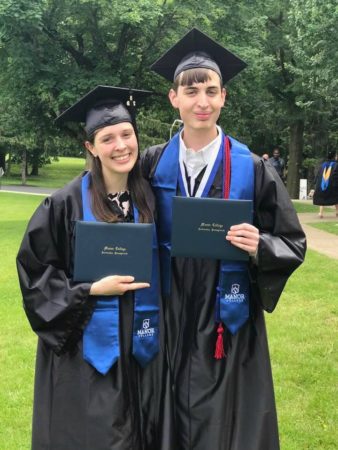 Jess + Billy
Billy and I met a few years ago at Manor College. Since we have met we have graduated our associate programs together in 2019 and both went on to get our bachelors here at manor! We have taken a couple classes together and attended the campus activities board meetings as well as hung out at the events. We stay in touch on social media and between classes to continue motivating each other to do well in our classes! I am happy to consider Billy one of my close friends now! – Jess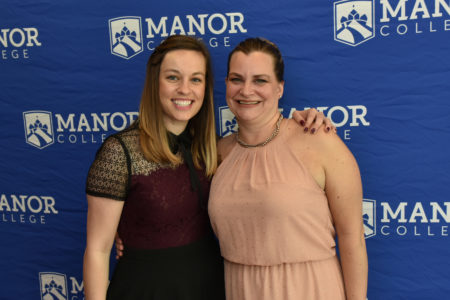 Kelly + Ali
Ali and I both came to Manor during the Summer of 2012! We were both newly engaged and bonded right away over wedding planning! Ali has always been my go-to person and she is someone who is incredibly loyal, thoughtful and deeply cares about everyone she meets. Her spirit is infectious, and I love that we can collaborate at work together but then also share and cheer each other on in the ups and downs of life. It is truly an honor to be a "Manor Match" with Ali, she is just the best!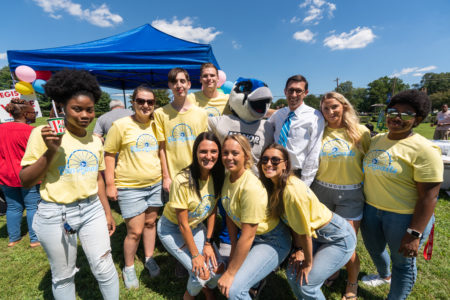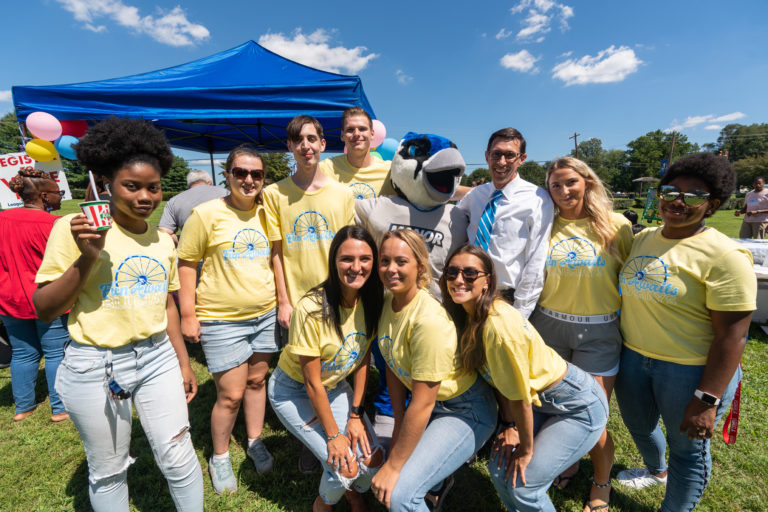 Manny + fellow Blue Jays
Since I was an abandoned egg in Alverthorpe Park, nurtured by the Sisters of St. Basil the Great, my favorite thing to do is what I like to call…Blue Jay and Chill with the students of Manor! I absolutely love hanging out, taking pictures, high-fiving, snacking, fist bumping and of course – studying with my fellow "Blue Jays"! Thank you to the students for being my forever valentine and favorite #ManorMatch.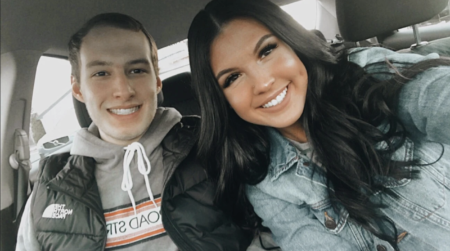 Angelica + Luke
I originally wanted to go to Manor College as my first option, but life happens and I took a year off after high school. I had met Luke through a couple of friends that I had graduated from high school with and when I asked what college he had attended and he said, "Manor College for Sports Management" I was shook. I was attending Manor College that Fall for Business Administrators. It was almost as if it was meant to be. Dating your best friend is the best decision I had ever made.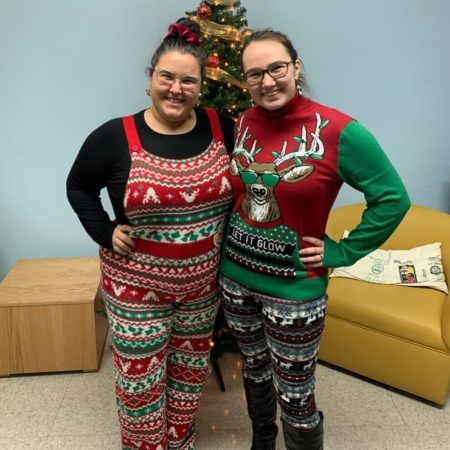 Tarra + Ashley
I met Ashley last May when I first started working at Manor. Our personalities seemed to align almost instantly and we have been inseparable ever since. Chances are that if you see one of us on campus, the other is nearby. This friendship has made such a positive impact on my experience at Manor and I am so glad to have found my "Manor Match."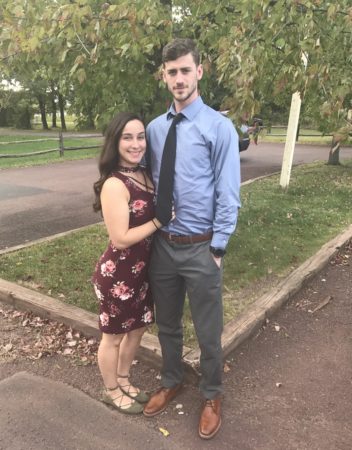 Lauren + Michael
I started my nursing career at Manor College before Mike did, but I loved Manor so much that I inspired him to go and start his nursing career there as well! Mike and I did take some science classes together and it was fun to spend college together without going far. I finished my nursing degree in 2018 and he is about to finish his. We are engaged and getting married in 2021. Manor college not only played a huge role in our professions but in our relationship as well.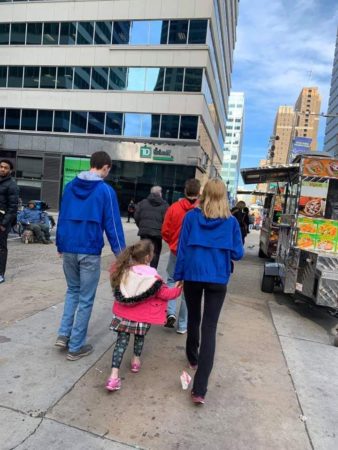 Billy + Julia
My name is William Rodebaugh and I am a Junior at Manor studying Business Administration. In the early fall semester I met a very nice girl name Julia Curcio in the cafeteria while I was waiting for Cross Country practice. As time went on we spent even more time together. I then asked her to join the Indoor track team. About spending a lot more time with her I decided to ask her out on a date. I did this at a bus stop and right before I was about to board I asked her if she would go out with me and she said yes. We went on our first date two days later. About a week later we officially became a couple. I am very grateful to have her in my life.
Brianni + Arraiyana
I am a every shy person and was always the type to sit in the back of the class. My first year of Manor I had to take a math class, and I was even more nervous because math is my worst subject. Arraiyana was in my math class that started at 11:00 am. She was always the type of person to rise her hand & everyone talked to her. One day I was sitting in class & Arraiyana just starting talking to me out of nowhere. After that day we talked all the time. We got each other's number and started having lunch together every Tuesdays and Thursday. I'm so happy Arraiyana talked to me that day in math class because I wouldn't want a better friend when Arraiyana. I love her so much & I thank her for getting me so comfortable here at Manor.
Kahdijah + Manor Ladies
These ladies (some not pictured) have been a H U G E impact on my career here at Manor! We all are there for each other, learning from each other, and lifting each other up everyday. When I look back at all the amazing memories we've made together, it truly reminds me on why Manor College is so special.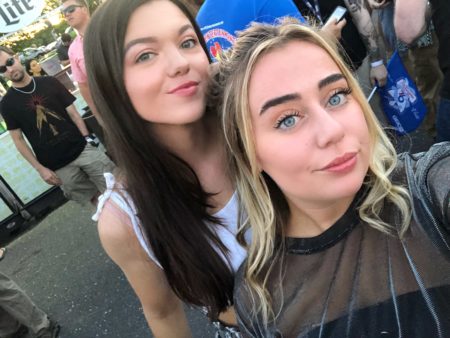 Kara + Jennifer
We met during our freshman year at Manor. We had 3 classes together and have been best friends since. We may have graduated and continued on our college career at different schools, but not a day goes by where we do not talk to each other.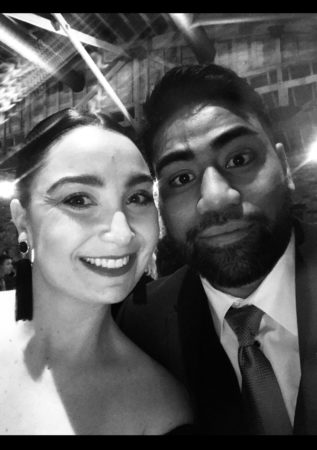 Soosoo + Nina 
We met at a Manor basketball game when I played for Manor in 2008. Went out on a date 3 days later and never looked back. We have two beautiful kids together and live in Olympia, WA out here in the Pacific Northwest (PNW). We're both proud graduates of Bluejay Nation and can't wait to move back to Philly this summer.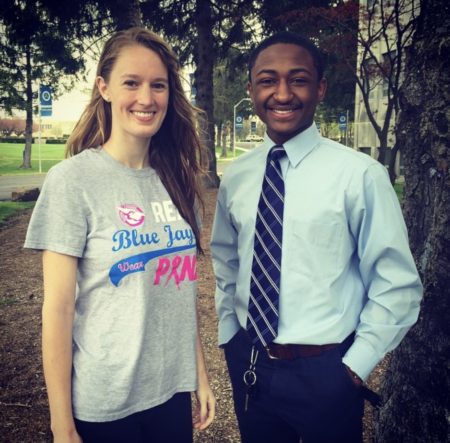 Sara + Ruben 
Ruben and I didn't know each other while we were students, but we ended up being co-interns in the marketing office, both while we were students and after graduation for several years. As interns, we transitioned from strangers to co-interns, friends, and practically siblings. We worked on projects together, with Ruben as the outgoing people-person and I as the stickler who kept us on task (for the most part lol). We made a killer team and still keep in touch. Intern solidarity forever!