Why You Should Choose Manor
Manor College has been the leader in educating and training Dental Assistants since 1976. Dental assistants will be trained to perform many tasks, ranging from providing patient care and taking x rays to recordkeeping and scheduling appointments. Their duties vary by state and by the dentists' offices where they work. This program offers the student the opportunity to participate in direct patient care at our own Dental Health Center, which adds to the quality of training offered by Manor's program. Manor College is accredited by the Middle States Commission on Higher Education.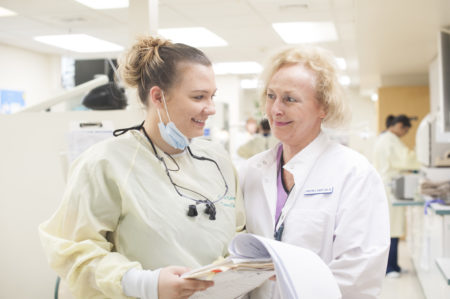 The Dental Health Center, a state of the art, newly renovated, facility, serves 2,000 patients from the community. Students work under the direct supervision of licensed dentists who serve as clinical instructors. The facility features five operatories, a sterilization room and a laboratory classroom. The college has also expanded the Dental Health Center to include a Hygiene clinic along with another laboratory classroom.
For more information on Manor's programs or continuing education courses for dental professionals, call (215) 884-2218
Admissions Requirements
2 yrs. H.S. Math
1 yr. H. S. Biology
1 yr. H. S. Chemistry/Lab Minimum
H.S. GPA 2.3
SAT: minimum 650 ( V+M or CR+M) If applicable
previous college GPA 2.3
Personal interview with EFDA Program Director
Specific Program Requirements Following Matriculation:
Student must show proof of required childhood vaccinations.
Student must show proof of current tetanus inoculation.
Students must show proof of having a TB test (prior to matriculation).
Student must show proof of having received, or that they are beginning, required Hepatitis B Vaccine Series, which must be completed by January before entering the clinical setting.
Students show proof of medical insurance coverage (this must be maintained throughout the entire program, demonstrating proof of, at the beginning of each semester).
Students must show proof of being CPR (Healthcare Provider) certified within first semester and maintain certification throughout program.
Dental Assisting Courses:
First Semester
DA101: Chairside Procedures (4 credits)
DA101L: Chairside Lab (0 credits)
DA103: Principles of Radiology (2 credits)
DA115: Practice Management (1 credit)
DA111: Infection Prevention and Control in Dentistry (1 credit)
DA107: Dental Materials (3 credits)
DA107L: Dental Materials Lab (0 credits)
DA109: Medical Management of the Dental Patient (1 credit)
BI106: Science of Nutrition (3 credits)
Second Semester
DA112: Clinical Experience I (3 credits)
DA104: Radiographic Techniques (1 credit)
DA106: Dental Anatomy (4 credits)
DA106L: Dental Anatomy Lab (0 credits)
DA118: Dental Specialties (1 credit)
DA120: Oral Health Issues (2 credits)
BI105: Survey of Anatomy & Physiology (3 credits)
Summer I
DA205: Dental Science (3 credits)
Summer III
DA212: Clinical Experience II (3 credits)

DA112: DA Internships (1 credit)
Total: 36 credits
If a 2.5 or higher cumulative GPA is maintained by end of Spring Semester, student can be accepted and complete a change of curriculum into EFDA A.S. degree program and continue in SUIII with DA212, DA201, and DA202
View the curriculum sheet.
Read the Academic Program Learning Outcomes for dental assistant schooling.
For more information on Manor's degree programs, workforce certificate courses, or continuing education courses for dental professionals, call (215) 884-2218. Find out why we're one of the preferred dental assistant programs in Philadelphia!