Manor College 3+3 Agreement with Widener Law School
For students interested in pursuing a career in law, Manor College's 3+3 agreement with Widener University Delaware Law School opens the door to pursuing a law degree on an accelerated schedule.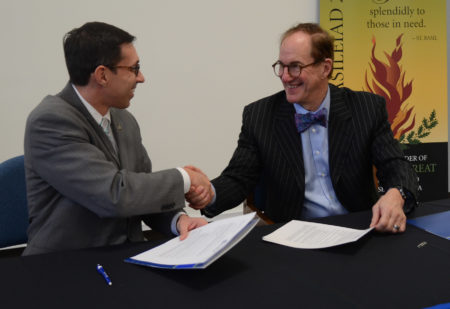 The program is intended to save students time and expense, allowing for the completion of both degrees in six years instead of seven. Students can now begin law school while finishing their bachelor's degree at the same time.
Start Law School While Finishing Your Bachelor's Degree
How does it work? Under the agreement, Manor students will be admitted to Delaware Law after completing just three years of undergraduate study if they have:
Completed 75% of their Bachelor's degree
Earned a cumulative GPA of 3.0 or higher every semester at Manor
Achieved an LSAT score that meets or exceeds the median LSAT score of Delaware Law's most recent entering class
Satisfied all Delaware Law admissions requirements relating to character and fitness
Submitted a completed application by April 1 of the calendar year in which they intend to enroll.
While students interested in the 3+3 Agreement are encouraged to major in Public Policy with a concentration in Paralegal while at Manor, it is not required. The student will receive their bachelor's degree from Manor College after the successful completion of their first year of law school.
The 3+3 agreement will give students a jump start into the field of law, and can help students to keep costs manageable thanks to a seamless timeline. Students who successfully complete law school will receive a Juris Doctorate (JD) degree from Widener.
Guaranteed Admission
Another benefit of this agreement is that a Manor student who earns any Manor Bachelor's degree is eligible for guaranteed admission to the Widener Delaware Law School, should they satisfy Delaware Law admissions requirements.
Delaware Law Offers Scholarship to Manor Students
Additionally, Delaware Law has agreed to award a minimum $20,000 merit scholarship to all Manor students accepted through the 3+3 program. This academic award can be renewed if the student maintains good academic standing.
Why Law School?
Students who graduate with a law degree will be in a unique position to serve their community, with many going on to become lawyers, judges, and even elected members of government. Numerous politicians, judges and esteemed authors are graduates of Widener University Delaware Law School, including Patrick Murphy, Risa Vetri Ferman, Dawn Marie Addiego, and Bryan Cutler.
According to the most recent statistics available, the average starting salary for a law school graduate is $53,500 (public sector) and $68,375 (private sector). Law school graduates with 10 years of experience make an average of $116,000.
To learn more about our admissions process, contact admissions@manor.edu.